Jonah turned 5 months old on March 19th and I feel like he's changed the most over the past month than any before. I'll probably be saying that again next month, but for now it's true. Since it's been a few weeks, MUCH has changed already, but I made most of these notes the week he turned 5 months!
At FIVE months old Jonah…
"talks" ALL the time!
gives the sweetest smiles
and is very attentive..taking it all in.
Also, Jonah...
• is about 15lbs (we'll check his height next month)
• has some serious baby chub going on especially in the thighs!
• still has blue eyes
• is still going blonde or red – don't quite know yet
• is wearing mostly 3-6 month clothing and size 1 shoes
• can hold his bottle (CAN but doesn't always WANT to – that's okay mama will do it)
• can sit up on his own for mintes at a time (he does this really well on his changing table)
• tried solid food for the first time
• went to his first parade (and second)
• became a BIG cousin for the first time (Jonah and Jude are exactly 5 months apart)
• sleeps exclusively in his crib at home and through the night most night
• sleeps on his side in a swaddle – but usually gets his arms out
• HATES his carseat most of the time
• likes being in the carrier
• went on his first forward facing stroll
• laughs often at everything and nothing
• loves other kids – he watches those cousins like no one else exists!
• will have quiet time in his crib with Scout for about 10-20 minutes without napping
• tries to grab everything out of your hands
• holds on to your shoulder when carrying him
• pulls hair
• loves to shake things (rattles, toys, necklaces, keys-I have to watch him on that one)
• loves his toys (play gym, sophie, winkle boxed toy, his owl and Bee at NaNa's)
• is an aspiring quarter back or pitcher – loves to throw things and they go far!
• grabs your face
• still loves to look at himself in the mirror
• is liking tummy time much better
I know I say it enough, but my life has changed and this kid is the center of my universe! LOVE HIM!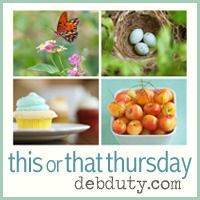 Bloggers who love photography and editing (any skill level):
You have to at least go see the awesome photo this week!